---
Story, Screenplay & Direction
Bauddhayan Mukherji
At the early age of 11, when Bauddhayan first picked Satyajit Ray's, "Ekei Boley Shooting" (All About Shooting), he knew filmmaking to be his calling.
Fast forward to three decades, he has scaled the heights of the advertising Industry directing over 300 television commercials and has received numerous honours including multiple Silver Lion at Cannes, back to back Spikes Asia Golds at Singapore, back to back One Show Merits and many more at the Goafests, Iffies, London International, Midas, RAPA, IDPA et al.
Today Bauddhayan runs his own production house which he co-founded with his wife Monalisa in 2007, called the Little Lamb Films and under this banner, 'Teenkahon' (Three Obsessions), his first feature film was made.
'Teenkahon' gathered much critical acclaim and is considered to be a game changer as far as the Bengali film industry in concerned and consequently has been screened in a number of international and national film festivals.
This year, Bauddhayan was awarded The Aravindan Puraskaram for the best Debutante Director of 2014 which was presented by the great Adoor Gopalakrishnan.
The list of awards and accolades has been grand and growing, which includes The Audience Choice Award – Best Narrative Feature (9th Seattle South Asian Film Festival 2014), Special Mention of Student Jury (3rd Festival du Film d'Asie du Sud Transgressif, Paris 2015), Nomination – Best Foreign Language Film and Best Director of Foreign Language Feature (Madrid International Film Festival, Madrid 2015), Nominee – Best World Showcase (6th Soho International Film Festival 2015) and Best Screenplay (Bridge Film Festival, Mitrovica, Kosovo 2014) to name a few.
However, underneath all the dazzling recognitions, in the heart of it all, this Bengali feature film was a tribute his mother tongue and an expression of gratitude to his idol wrapped in the elements of complex, poetic story-telling.
Constantly growing and exploring, Bauddhayan openly declares that he consciously shifts away from developing a specific style of directing, and it is this nature that made him bring 'The Violin Player', a 72-minute featurette into life despite countless hurdles.
'The Violin Player' is not only about pushing the boundaries of a narrative; it is also a part of Bauddhayan's journey of constantly looking for answers and enquires about the art and the artist.
For Bauddhayan, It's always been about staying true to the story and building an environment which would include the viewer, this sincerity and a certain amount of stubborn fearlessness manifests into his filmmaking both in 'Teenkahon' and now in 'The Violin Player'.
Assistants : Harish Gadappa, Siddharth Nima, Sambhav Daffu, Abhinandan Banerjee
---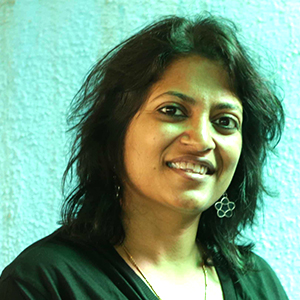 Producer, Production Design, Costume Design & Dialogues
Monalisa Mukherji
A published poet, a production designer, a casting director and a mother – Monalisa Mukherji is a multi-tasking force to be reckoned with.
A leading name in the advertising Industry today, she started as a production flunky at Equinox Films and climbed up the steps to become the first woman to head the production wing at Equinox.
With her entrepreneurial bent of mind, she soon co-founded Little Lamb Films with her husband Bauddhayan Mukherji in 2007.
Amongst her numerous achievement in the Industry, Mona's first collection of poems "Kuchh Baked Kavitayein" (Some Baked Poems) released in 2014 and made a resounding name for itself in the Hindi literary circuit in India.
She turned producer with the Bengali Feature film Teenkahon which was made under the banner of Little Lamb Films and true to her form, in the upcoming Hindi feature The Violin Player, she brilliantly juggled the responsibilities of being the producer, being in charge of the dialogues as well as heading the costume and production design departments.
Today Mona lives in Mumbai with Bauddhayan and daughter Aarsha, learns Tagore's songs at ease, writes poems in Bengali, enjoys the massive success of Teenkahon, prepares for the release of The Violin Player and keeps everyone at Little Lamb Films on their toes.
Assistants : Payel Pal, Geeta Dhodia
---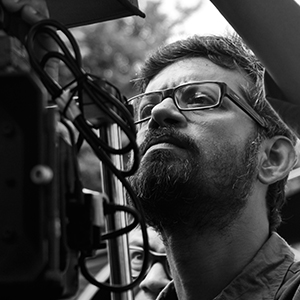 Director of Photography
Avik Mukhopadhyay
With three national awards for cinematography under his belt, Avik Mukhopadhyay has always been in a league of his own. He is known to understand and play with natural and artificial light to give life to a shot in a way that is distinctive and technically astute.
Since his FTII days, he has shot and directed around 500 advertisement films and worked in several movies as the Director of Photography starting with Rituparno Ghosh's Asukh (1999) and including Patalghar (2001), Bhalo Theko (2002), Chokher Bali (2003), Raincoat (2004), Bunty Aur Babli (2005) and Antaheen (2009). He ventured into direction with Bhoomi (2009) and Ekti Tarar Khoje (2010).
As the Cinematographer of Teenkahon, he used his innovative techniques to add to the much acclaimed narrative and has played an essential part in creating the same kind of visual artistry in The Violin Player.
Assistants : Anup Singh, Sanjay Kumar Keshari
---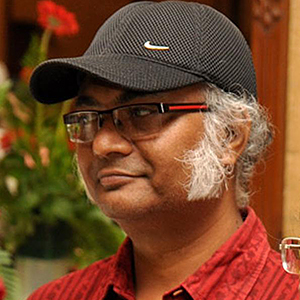 Associate Director & Editor
Arghyakamal Mitra
Known to be one of the most prolific film editors in the industry, Arghyakamal Mitra is an FTII alumnus who has won several awards and accolades throughout his career including a National Award for Best Editing for Rituparno Ghosh's Abohoman (2010). His stellar filmography includes Dahan (1998), Chokher Bali (2003), Herbert (2006), Bhooter Bhobishyat (2006), Open Tee Bioscope (2015) to name a few.
His craftsmanship was an essential reason for the grand success and acclaim of Bauddhayan Mukherji's Teenkahon (2014) and consequently became a part of his upcoming Hindi Feature, The Violin Player in the same measure where he also essays the role of being the associate director.
Assistant : Sushant Tambe
---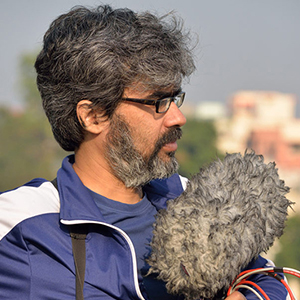 Sound Design & Re Recording
Abhijit (Tenny) Roy
An FTII alumnus, Abhijit, known more popularly as Tenny is the director of Junk n' Genius Studios (J n'G).
Also the founder member of the Bengali band Chandrabindoo, Tenny's forte is sound and everything even remotely associated with it.
He lent his expertise to movies such as Devdas (2002), Patalghar (2003), Antarmahal: Views of the Inner Chamber (2005), Palak (2006), Le Chakka (2010), Dui Prithibi (2010), Gosain Baganer Bhoot (2011) and Open Tee Bioscope (2015).
Recently he was honored with the Palm Light and Sound award for the best FOH engineer.
A thinking man, he brings in a lot of value to the narrative through his understanding of sound in terms of every scene. In The Violin Player, he adds to the dynamics of the storyline in the same significant manner.
Assistant : Naidu
---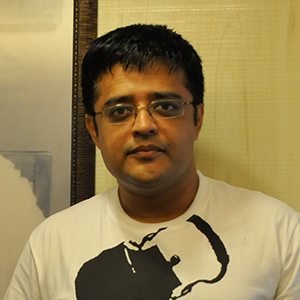 Music Directors
Arnab Chakraborty
A singer and a performer from the age of 15, Arnab made his debut as a playback singer of the title track, Yeh Kya Ho Raha Hai for Shankar–Ehsaan–Loy and Javed Akhtar.
In 2004, Khakee released with Arnab's much loved song, Wada Raha Pyar Se Pyar Ka, which quickly climbed the charts and he was consequently nominated for the coveted Zee Cine Awards (2005) as well as The Stardust Awards (2005) for the Best Male Playback Singer.
Thereafter, he went on to record with eminent composers like Jatin-Lalit, Daboo Malik, Shantanu Moitra, Leslie Lewis et al.
In 2008, he was declared the champion of the reality show 'K for Kishore' which added to his fame and distinction.
He made his much anticipated debut as a music director in Teenkahon.
His inherent musical sensibilities and instinct in the feature, The Violin Payer marks his steady rise amongst the most sought after music directors of the industry.
Bhaskar Datta
This prodigy started playing the violin at the age of 6.
He joined the prestigious Kolkata Music Academy and trained under the tutelage of Abraham Mazumder, the conductor and principal of the Academy. By his teens he had already performed at various concerts in venues both in India and abroad earning honours and mentions for his baritone voice as well as impeccable string work.
Notable concerts include performances of Tagore Symphony in Munich, Berlin and Dhaka, the opening ceremony of the inaugural Kolkata Film Festival, 2011 and several western classical performances for the All India Radio.
A graduate of Jadavpur University, he spent as much time and dedication towards his guitar and violin skills and vocals as much as he put into his courses.
Since moving to Mumbai, he has worked closely with the famed instrumentalist Tajdar Junaid, playing a solo violin piece for the popular Kinley advertisement amongst others.
He has also been featured as a singer in the Bengali feature film, Elar Char Adhyay (2012).
His musical abilities led him to become an essential part of The Violin Player team, coaching Ritwick's movement to sync with the impeccable notes and complex western classical renditions.
His riveting original composition also features in the film in all of its climactic glory.
---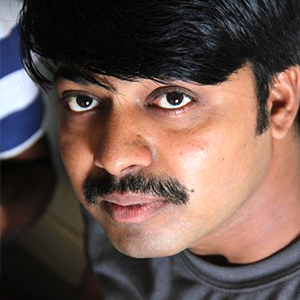 Art Director
Sachin Bhilare
Sachin Subhash Bhilare, a gold medalist from the Centre of Performing Arts, University of Pune is known to be one of the foremost art directors of the Marathi film industry.
He is the man behind the exquisitely detailed Visual styles in the National award winning movie Ratnakar Matkari's Investment (2013) and Paresh Mokashi's Elizabeth Ekadashi (2014).
His ability to create the kind of environment and a visual identity unique to the demands of the story has awarded him the Zee Gaurav nomination for Vihir (2009) as well as a nomination for Elizabeth Ekadeshi (2014) for art direction.
His expertise and ability to build a world befitting the characters, the environment which would highlight and reflect the essence of the story made him an asset to the The Violin Player team.
Assistant : Upendra
---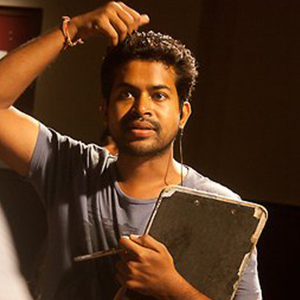 Chief AD
Harish Gadappa
Being in the industry for almost a decade has made Harish into one of the most knowledgeable and organized AD in the business.
He has been the multi-tasking assistant director in Ram Gopal Verma's, The Attack on 26/11 (2013) and in a similar fashion he has become a vital part of Little Lambs Films.
He has effortlessly balanced the advertisement aspects of the production house as well as its venture into feature film making with Teenkahon. He handled the pre-production, production as well as the post-production side of The violin Player with equal amounts of painstaking attention, planning and vision.
---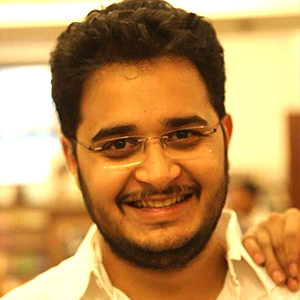 Executive Producer
Kedhhar Barrve
Kedhhar Barrve, the executive producer extraordinaire at Little Lamb Films is one of the most driven, meticulous workers one would ever come across who has made sure that the production house stays internationally strong in the advertisement industry.
Teenkahon began his foray into feature films and he has been responsible for the film's international outreach and acclaim.
He has extended the same level of professionalism with aplomb in being the executive producer of The Violin Player, which is one of the many reasons why he is considered as one of the youngest and the most sought after executive producers in India.
Assistant : Laxman Sharma
---